---
Start Your Engine with the Push of a Button

Protect your vehicle from thieves and vandals, start your engine with the push of a button with up to 600 metres range remote. Viper's 5606VR system features one slender and elegant 5 button SuperCode remote control. Based on the CES Best of Innovations Award-winning 2-Way Responder LE Security and Remote Start System, this is the value-priced 1-Way version.
Includes all of the key vehicle security components including the Stinger® DoubleGuard® shock sensor, Failsafe® Starter Kill and Revenger® 6-Tone Siren, plus the very latest in Remote Start technology, including Virtual Tach, D2D and XPRESSPORT™.
*Note: Please call/seek our advice to determine which remote start unit will suit your car before making the purchase.
Product Technology: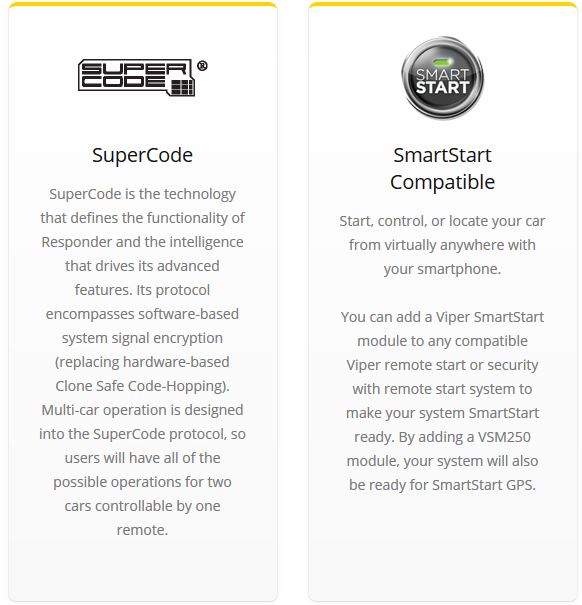 Features:
600 metre range

New, slim 5-button remote control

New Priority™ user interface with easy 2-car operation

Control Center™ with integrated Status LED and Valet Switch

Virtual Tach™ RPM sensing

D2D serial data interface for Xpresskit D2D serial data interface modules

XpressPort dock for Xpresskit docking serial date interface modules

Flex Relays for remote start and light flash

Manual Transmission Mode

Car Finder

Advanced remote start functions: Timer Start, Smart Start, RunTime Reset

Failsafe® Starter Kill

Revenger® Soft Chirp Six-Tone Neo Siren

Onboard Stinger® DoubleGuard® remote-adjustable shock sensor

Warn-Away: low-volume, brief warning signal for questionable threats

Inputs for doors, hood, and boot monitoring

Progressive Door Trigger

NPC™ Nuisance Prevention Circuitry software

Silent Mode arming and disarming

Ports for optional tilt, glass break, cabin, and proximity sensors

Keyless entry with optional progressive driver's unlocking

Boot Release plus 3 AUX outputs